Most Americans have heard of the high profile murder of Kate Steinle in the sanctuary city of San Fransissyco. Here is a site that maintains a list of numerous such murders. Not all victims are White, but all are American citizens apparently: http://www.ojjpac.org/memorial.aspKathryn
---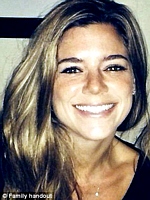 "Kate" Steinle, 32
daughter, sister, friend
Killed by Juan Garcia Zarate a/k/a Francisco Lopez Sanchez, 45
Francisco Sanchez, 45, a previously deported illegal alien from Mexico, has been charged with the July 1, 2015 murder of Kathryn Steinle, 32 of San Francisco California.
Steinle family members said that Ms. Steinle, affectionately called "Kate" by friends and family, was with her father on Pier 14, a popular local gathering place, when she was shot and killed. Witnesses took photos of the killer which led them to Francisco Sanchez, who was captured later nearby Ms. Steile's home.
At the time of the shooting, Sanchez reportedly had seven felony convictions and five prior deportations. He was also released from jail just months before the shooting because of the San Francisco's sanctuary policy for illegal aliens.

Ms. Steinle was a 2001 graduate of Amador Valley High School and was employed by Medtronic, a medical device provider.
The Steinle family is in shock over the death of their loved one. Her brother Brad said his sister was a loving and caring person who enjoyed making people laugh.
OJJPAC note: The City of San Francisco has passed laws protecting illegal aliens from federal law enforcement for years. The city likely has the most pro-criminal illegal alien Sanctuary policy in the nation, protecting them from federal law enforcement efforts to identify and deport unauthorized aliens from the US.
---
Source: Family Devastated After Woman Shot, Killed In San Francisco, By Vic Lee and Chris Nguyen, 7-2-15; In memory of Katie Steinle, it's time to finally shut down 'sanctuary cities', by Dave Ray Opinion contributor, The Hill, 11-2-17; Photo: Courtesy of the Steinle family which reserves its copyright.