[edit]


Woops!

"The End of Patriotim" is an excellent talk, but I made an error. I thought I was listening to POT Volume 12 when I saw tract 10 was playing, but later realized it was track 10 on Volume 6, "Race Suicide." It is this talk that every White school child shoud be required to listen to several times, tested and graded on its content.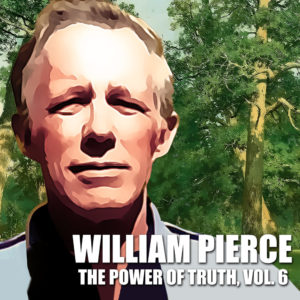 1. A White World

2. Biopolitics

3. Conditioning for Death

4. Corruption and War

5. Deliberate Deception

6. Diversity Is Our Strength

7. Labels

8. Men of Valor

9. Payback Time Is Near

10. Race Suicide

11. The Criminal in the White House

12. The Destructive Media

13. The End of the Millennium

14. Thoughts on Government

15. Time to Blast Our Enemies

16. Toward a Sane Society

17. Tribal Thinking

18. Tribes

19. What We Can Do

20. Woe to Our People's Enemies
For those who think CDs are obsolete, the text and a video of the talk is here: https://nationalvanguard.org/2021/07/race-suicide-2/ It can probably be heard for free on Natall.com/Bitchute or one of our other video channels.