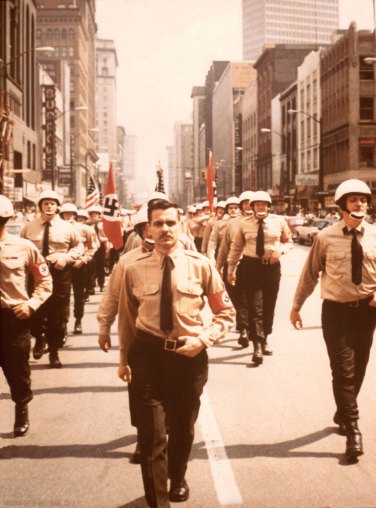 My first thread here and what do I say? I noticed the name
Matt Koehl
being mentioned here, and my decision became a no-brainer. 2507 North Franklin Road will always stick in my memory. It was the address for the
NSWPP
headquarters in Virginia, and my job was working on "
White Power
" newspaper and the "
NS Bulletin
", then later also as membership secretary. I was a long way from home, and at an earlier party congress, I and another comrade were given a set of NS slides for the "furthest traveled". I had never flown in an airplane before, and it was from a far corner of the Pacific northwest.
So the next year after that party congress, I decided to leave my job and work for the NSWPP. My sleeping quarters were situated next to Commander
Koehl's
office. Earlier I had stayed at our 'barracks', but when Lieutenant Homan departed back to the Pacific northwest, he left the spare headquarters bedroom. I recall a couple of times when Commander
Koehl
walked into his office in the morning and bellowed out "........ get up"! We were all working various hours sometimes, and sometimes you hoped to get in a few more winks! One time Commander
Koehl
informed me that they had a contact in the FBI. And some of us had taken a tour of the FBI headquarters in D.C. at the time. He informed me that the FBI knew I was there.
I recall once when I chauffeured Commander
Koehl
on a mid-west tour. He was very serious about our destiny and future, but there was the humorous and joking side to him also. He was driven by commitment alone. I heard that he was criticized during Commander Rockwell's time, by some members for his insistence on focusing on our goal and nothing else. So if it wasn't related to the mission, it wasn't worth discussing. Anything mundane wasn't worth discussing. That was
Matt Koehl
.