Mon Dec 14, 2015 5:40 pm
Dr. William Luther Pierce published this pamphlet in 1994 through his publishing arm National Vanguard Books under the auspices of his organization The National Alliance. Dr. Pierce was a true patriot and has contributed an immense amount of invaluable material for the cause of the survival of our race and to set the truth free. As far as I am concerned Dr. Pierce was and still is in death one of the greatest heroes to the White race.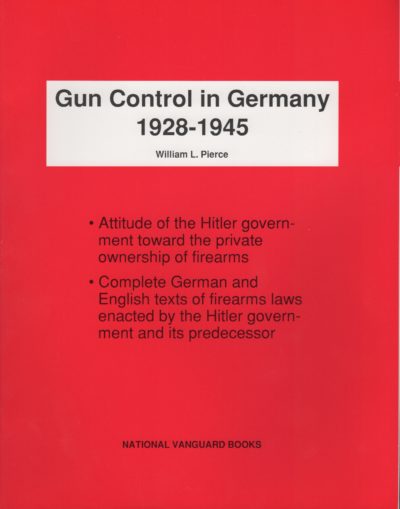 This is a short 48-page pamphlet but is indispensable in that it is empirical evidence of what truly went on as far as gun control under the Jewish Weimar Republic and comparing it vis-à-vis The National Socialist Government. We have all heard the platitudes that the unwitting masses preach like good little sheep about Hitler purportedly being a "Gun grabber" or that "The first thing Hitler did was disarm the citizens." This pamphlet proves that this was not the case and in fact after the National Socialist Government got around in 1938 to updated the gun control laws they actually mitigated some of the superfluous laws.
This pamphlet starts out with a treatise that Dr. Pierce wrote about Gun Control in National Socialist Germany comparing the two regimes and offers much needed insight to the reader. After the introduction the original German text of the 1928 and 1938 laws and provided facsimile and also included is the English translation. This is a very short but pertinent pamphlet that I think everyone should read that helps illustrate some of the lies that the Jews have perpetuated onto the unsuspecting masses. We are interminably indebted to the contributions that Dr. Pierce has made for our race and the fame of his deeds more certainly lives on and continues to bring in new recruits to our cause to this day.
Michael Jeffrey
http://racialobserver.com