...
Now Comes the Hard Part
After years of delay, the most ambitious observatory ever built has at last left Earth. It now faces a high-stakes series of deployments in deep space
By Richard Panek on December 25, 2021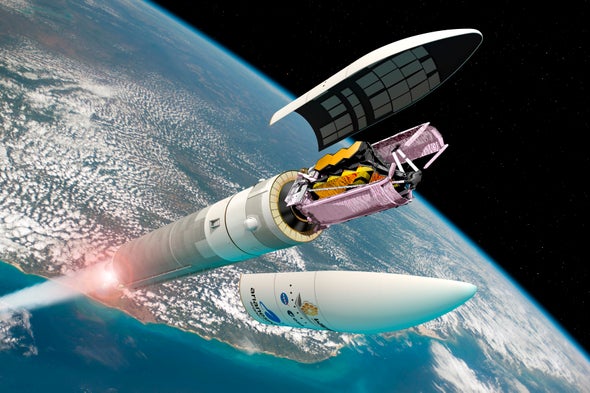 An artist's impression of the James Webb Space Telescope folded and stowed inside its Ariane 5 rocket, shortly after launching from Europe's spaceport in French Guiana. Credit: © ESA/D. Ducros
The relief was as deep as the stakes were high. At 7:20 A.M. (ET), the rocket carrying the largest, most ambitious space telescope in history cleared the launchpad in French Guiana, and the members of mission control at the Space Telescope Science Institute in Baltimore roared their elation.
The suspense was not quite over. Half an hour postlaunch, the telescope still needed to decouple from its host rocket, after which it had to deploy solar panels to partly power its journey. Only after that first deployment proved successful, said a NASA spokesperson in a statement to Scientific American, would "we know we have a mission."
Astronomers have more riding on the rocket than the James Webb Space Telescope (JWST). Also a*t risk is the viability of NASA's vast space-science portfolio if not the future of astronomy itself. As the successor to the Hubble Space Telescope (HST), JWST is one of those once-in-a-generation scientific projects that can strain the patience of government benefactors as well as the responsible agency's credibility but also define a field for decades to come—and possibly redefine it forever... More, here:
https://www.scientificamerican.com/arti ... ard-part1/
I have not celebrated Christmas as such in years. 25 December is like any other day in the Williams' home. We prefer celebrating the winter solstice as our ancestors did in pre-Christian Europe, and New Year's Day with the prospects it brings in the coming year.

But today, however, 25 December, 2021, brings an event worth celebrating by us with the launch of the James Webb Space Telescope. Its $10 billion cost will potentially be worth more to our race than the trillions of dollars thrown away by "our" government on mostly social welfare programs and the phony. "progressive" Green New Deal.

It's not just that James Webb is from my own birthplace, Granville County, NC, that makes me proud, but that helps. I remember a few years back when anti-White media were claiming that the Negro criminal, Benjamin Chavis, who served as one of a number of corrupt Chairmen of the National Association of Colored People, was Oxford's Granville County seat) most famous son. Ha! Perhaps most infamous. Even Jew-owned Newsweek magazine had to eventually admit the truth of Chavis's corruption: https://www.newsweek.com/fall-benjamin-chavis-187934
James E. Webb

Mr. Webb, appointed as Administrator of NASA by President Kennedy in 1961, served as head of the fledgling Space Agency until 1968, playing the major role in developing the Apollo Program that landed American astronauts on the moon the following year. It's safe to say Webb will be remembered in history long after the criminal Negro Oxonian is forgotten.