This was just published at http://nationalvanguard.org/2013/07/dis ... smotheism/
Discovering Cosmotheism
How did William Pierce's religion, Cosmotheism, begin? How did it develop? Robert Griffin asked Dr. Pierce these and other questions, and here are the answers.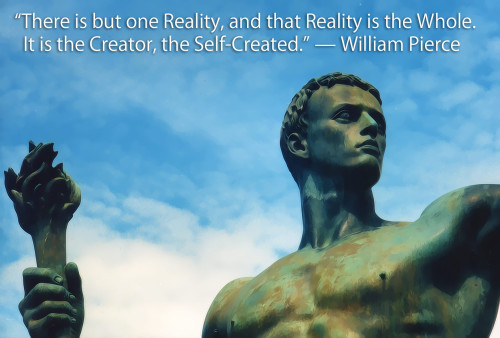 an excerpt from
The Fame of a Dead Man's Deeds
by Robert S. Griffin
DR. PIERCE TOLD ME that during the early 1970s he formulated a race-based religious orientation to provide the spiritual basis for the direction he was taking with the National Alliance. He needed a name for what he had put together, he said, and he came up with Cosmotheism. He's not sure whether
he ran across the term in an encyclopedia
or made it up. One day when I was in his office with him in West Virginia, I asked him to help me understand what Cosmotheism was about. He rose from his desk and went to a file drawer and pulled out some pamphlets, sorted through them a bit, and then handed three of them to me. "You can look these over. I wrote them on Cosmotheism back in the late 1970s. They are going to sound a little naive, but here they are."
I spent a minute or two looking them over. The three pamphlets were each about twenty pages in length and had the Life Rune prominently displayed on their covers. The pamphlets inform the reader that the Life Rune, or Rune of Life, is the insignia worn by the members of the Cosmotheist Community on their jacket lapels or blouses. Of course, it is also the symbol of the National Alliance. The Life Rune is one of the characters in an ancient alphabet of northern Europe and represents the processes of birth and renewal. The Cosmotheist literature says that it signifies "the upward Path of Life which we strive to follow."1
As I was paging through the pamphlets, I noted that they were written in stilted, bible-like prose.
One of the them, entitled
The Path
, was printed in 1977.
The second,
On Living Things
, was printed in 1979.
The third,
On Society
, was printed in 1984.
They were produced by the Cosmotheist Organization, not the National Alliance. I asked Pierce about this Cosmotheist Organization.
"The National Alliance came first." Pierce replied. "We had meetings every Sunday evening at our offices in Washington. Members of the Alliance were invited to bring other people, and a variety of people showed up. In fact, too big a variety—but I'll get into that. One of the more interesting people who came, I remember, was John Gant. Gant had degrees in both medicine and physics, and he was a professor at George Washington University. He did medical research and was a consultant to the Air Force. He was also an amateur astronomer—as matter of fact, there is a crater on the moon named after him. He died about fifteen years ago, and I inherited some astronomical instruments from him. So I had people like that coming to the Sunday night meetings.
"On those Sunday nights, I'd show movies that I got from the local library. They were from a series called
Civilization hosted by an Englishman named Kenneth Clark
. I think the series may have played on PBS. [It did.] Clark was a fairly subtle man. While he never spoke out directly about racial matters, there were a lot of implicit messages in his series. For example, in one of the episodes he compared an African tribal mask from the Guggenheim collection in New York with the Apollo of the Belvedere sculpture which reflects the epitome of Greek art. Clark said that while the carved mask is indeed art, it is fair to say that the Apollo sculpture is an expression of a higher artistic sensibility. He did this kind of thing a number of times, and to me it was an indication that he was sensitive, intelligent, and insightful, and hadn't been subverted by political correctness. At the same time, he didn't want to stick his neck out and buck the forces around him. So he would come out with these little hints and just leave it as a 'word to the wise,' as they say.
"After the Clark movies, I would give talks, some of which we have on tape. [
"Our Cause,"
paraphrased in the last chapter, was one of them.] Some of the talks got into racial differences, comparisons between whites and blacks, that kind of thing. I know Stephen Jay Gould [the Harvard University evolutionary theorist] and others disagree with me, but I believe that the groups that remained in the tropics simply did not evolve as rapidly as those that migrated to the northern hemisphere. The northern peoples had to deal with severe seasonal changes in climate, and the sorts of attitudes and behaviors that sufficed in the tropics simply wouldn't keep you alive in northern Europe eons ago. There was a much more rigorous selection process in this kind of challenging environment.
The result was that whites evolved further. We developed certain faculties to a greater extent than blacks did. Evolutionary development, and particularly racial differences, is a basic idea behind Cosmotheism. Although if you look over those pamphlets on Cosmotheism I put together, race isn't mentioned very much at all.
"When I would speak about race on Sundays, I noticed that it appealed to a certain type in the audience. Other times, the lesson I drew from one of Clark's episodes was more subtle and related to certain aspects of our own nature as a people and as a civilization. I noticed that some people were interested in that, but I could see the eyes glaze over in the first group, the ones that liked the race material. What was going on was that some people wanted me to tell them what we were going to do about the problem we have right here in Washington, D. C. with blacks and Jews. They didn't want to hear about anything else. The way they looked at it, we had these very immediate and urgent problems to deal with, so cut the philosophical stuff, who wants to hear about that?
"My attitude about their way of thinking was, yes, we have immediate problems, but if we want to arrive at a good, lasting solution to them we need to think about these other things that I was bringing up. Some people who came to the meetings agreed with me on that, and others didn't. So what I did was split the group up. I would invite everybody to the National Alliance meetings on one Sunday, and then, on alternate Sundays, I'd invite just the people who I thought were receptive to the more fundamental things I wanted to talk about. That second group became the Cosmotheist Community.
"The Cosmotheist group didn't just get into abstract things. Sometimes we discussed very practical things, like how to raise children. Suppose you are a parent: how can you possibly keep your child from being taken over by the people who are wrecking our civilization? Is there any way you can compete with television and the school system and the corrupted kids your kid comes into contact with? We got into questions like that.
"After a time, we—I'm talking about the Cosmotheist group—decided that it would be worthwhile to try an experiment. We'd try to create an environment more under our control than it is now and live with people who share our values and raise our kids in that sort of setting. We talked about buying some land on which we could build a community. I said to the group, 'Look, I have so many thousand dollars in savings I can put toward it, but it isn't enough. Some other people are going to have to cough up some money, too.' I wanted to open up a bank account. I also told them, 'We are going to have to do this in a business-like way. What we really are is a church—we're like one anyway. So why don't we call ourselves a church, because there are some advantages to that. For one thing, we won't have to pay taxes.'...

CONTINUED at http://nationalvanguard.org/2013/07/dis ... smotheism/